You want to benefit from the latest technology –
we deliver the optimal solution!
Originally founded in 2005 as RFIDInnovations, primtec has many years of technical experience in providing a wide range of complete solutions in automation, logistics, track & trace and inventory. We optimise your company processes based on proven and also cutting-edge technologies, such as RFID, barcode, IoT, machine learning, computer vision and many more.
Based on your individual enquiry, we will be pleased to consult you and design a tailor-made solution for your company and implement it for you.
We are your one stop solution provider! From planning to development or customisation of our software modules, delivery and installation of hardware components to go-live.

As a long-standing GS1 solution provider, we can implement worldwide GS1 standards into your solution.

Michael Mally
Shareholder and Managing Director
Head of hardware department and project management
Volker Knapp
Shareholder and Managing Director
Head of the software department and development of the high-performance framework primtec.Labs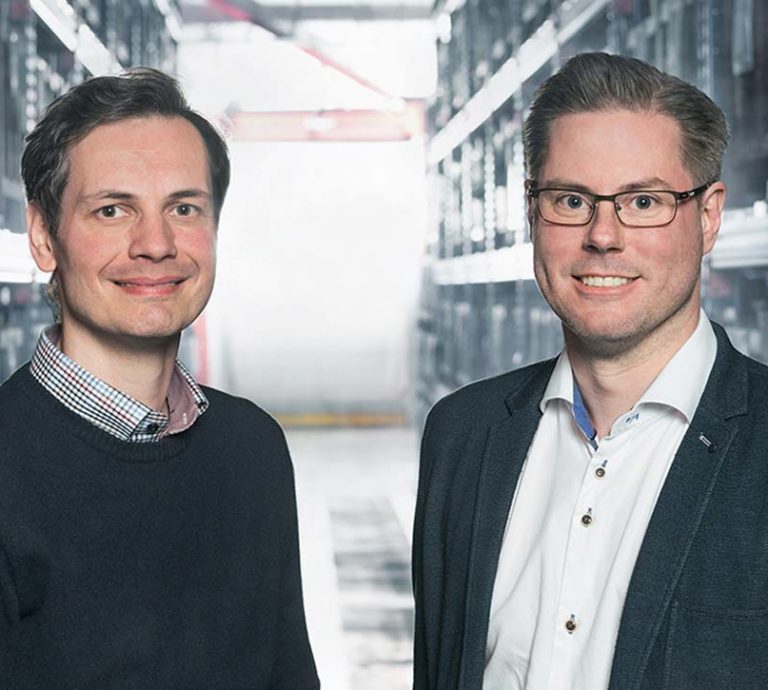 Why primtec?
Your application is built on our proven primtec.Labs framework


Based on our own in-house software platform, we create a dynamic and reliable system that meets the highest industrial standards (24/7).

Significant time savings in project implementation


Our efficient structures allow custom projects to be implemented quickly.

System optimisation using machine learning


Efficient real time adaptation to changing environments in order to increase overall performance.

Automation with IoT


Decentralised devices that autonomously monitor and control workflows directly at the production line.

Customised user interface


Our focus on usability ensures simple handling which means minimal training is required and ensures there are no user errors (zero defects strategy).

Your cost benefit


Due to the modular architecture of our software, processes can be easily adapted to your specifications.
A comprehensive WMS solution for Coca-Cola HBC Austria
In the state-of-the-art production and logistics centre, we have introduced a modern WMS system including control centre and forklift guidance system to achieve a high throughput of goods and to optimise and automate storage-, removal- and return-processes. Several block storage areas as well as the area of the mobile racks are captured by our system. In order to optimally organise the pallet movements, various optimisation strategies are used at the same time, which are controlled and monitored by our system. Each forklift was easily upgraded with a forklift terminal and thus integrated into our system. All activities can be conveniently analysed and controlled on the browser via a modern dashboard. The information obtained, such as the real-time stock level or even a complete base data overview, enables efficient planning for procurement and production.
Read more about this project here!
Integration of all suppliers into the GS1 Upstream process
Dynamic bearing attributes with validation
Direct interface from the stacker to the mobile rack
More than 500 pallet movements per day
Optimised storage/removal strategies
Project partners Still GmbH and GS1 Austria GmbH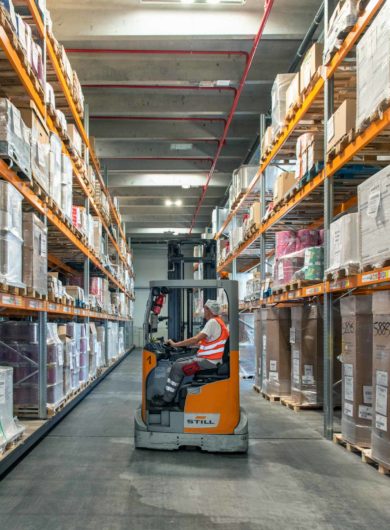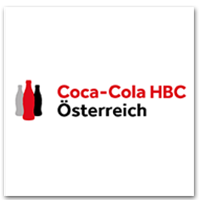 "Thanks to the good cooperation with primtec, we now have a warehouse management system that ensures fast and efficient work in the new mobile racking."
ACHIM GASSER, ALEXANDRA THOMIK
Raw Material Supervisor